Fire Smarting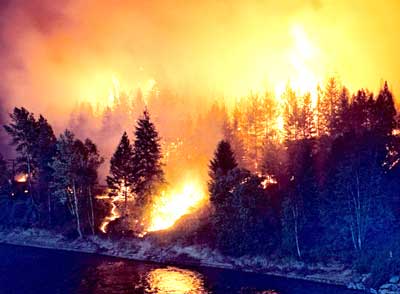 Fire Abatement
At Iverson Forest Management we focus on fuel management priorities and practices with concerns at both local neighborhood level and city planning levels. We work with both local government and individual property owners in reducing fire risk through fuel management within the home ignition zones. This helps us to determine how to reduce interface fire risk on both public and private lands. We provide extensive "on the ground" assessments along with integrated GIS assessments based on the associated risks and values.
Combined with current interface practices we can help create best fire abatement practices with socially and economically defensible treatments. Using on the ground observation checks and current GIS mapping, combined with existing ecosystem mapping, we can identify significant fire hazard areas and potential or high fire hazard risk areas. All fire risk areas are mapped based on fuel and ignition types. We can create dynamic maps which exhibit how the fire interface can or will affect areas of poor fuel management. With this information we can create and design proper fire breaks and fuel maintenance programs to help protect private land or communities.
Click image for a link to Firesmating Papers
We work with both the local government, and individual property owner to look at reducing fire risk through fuels management within the home ignition zones. We look at the area in detail and help to identify the potential risks to subdivisions or private property and link that with our ability to map and model (using GIS) fire crew response time we are able to help clients develop a strong Fire abatement strategy.

Fire Smarting